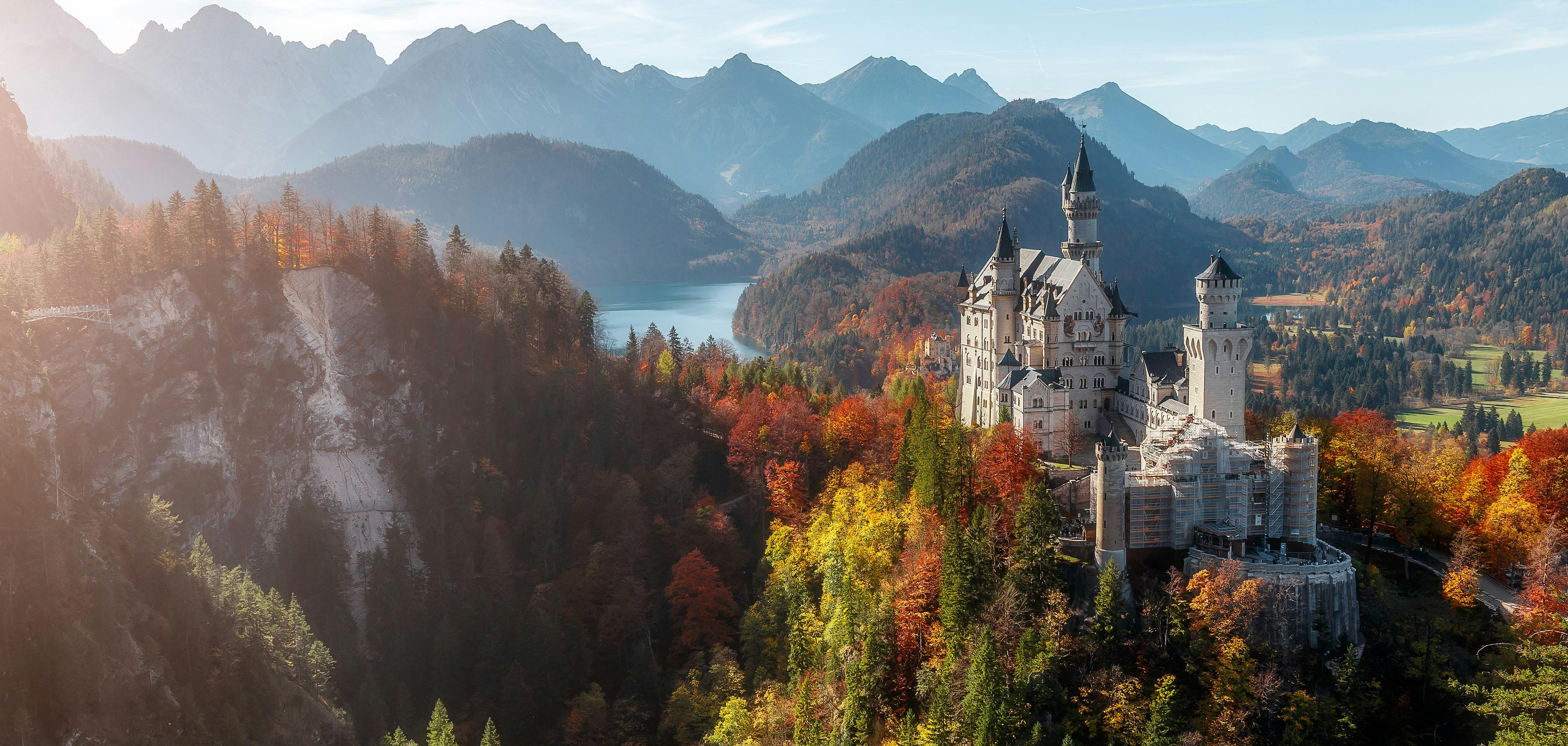 Experience a truly royal day! Savor the comfort and pleasure of traveling in a small group on board an exclusive coach that will take you on an unforgettable trip to the fairy tale castles of Linderhof and Neuschwanstein and to the picturesque village of Oberammergau. Your tour includes plenty of room and Wi-Fi onboard the coach, comfortable seats, big panoramic windows, a professional guide and driver, on-board snacks and drinks, and also your tickets to the castles.
After leaving Munich you'll take the Autobahn towards the Bavarian Alps where you'll arrive at Linderhof about an hour and a half later. Here, you'll be given a guided tour through the palace after a short stroll to its entrance. Your tour guide has made all the necessary arrangements so all you need to do is enjoy!
The trip continues on to Oberammergau, where you will have about 40 minutes to walk through the lanes of this quaint village and see beautiful examples of the traditional art of woodcarving which originated there.
At about 1.00pm, after a drive along the famous Romantic Road, you'll reach the foot of the majestic castle of Neuschwanstein. Before hiking up to the castle for your guided tour, you can decide to either have lunch or set out for Mary's Bridge (Marienbrücke), the best place to get those the postcard views of the castle. You will receive your reserved timed tour tickets for Neuschwanstein from your guide upon arrival.
At the end of this fun-packed day, you can relax and unwind as we drive you back to Munich in our luxurious coach.ITINERARY:8.30am – Depart from Munich
9.45am – Arrive at Linderhof Castle for a guided tour
10.45am – Depart from Linderhof castle
11.15am – Arrive in Oberammergau
11.45am – Depart from Oberammergau
1.00pm – Arrive at Neuschwanstein Castle
4.30pm – Depart from Neuschwanstein Castle
6.30pm – Arrive back in Munich
Neuschwanstein, Linderhof and Oberammergau VIP tour from Munich boeken?
Levertijd:  Realtime
Munich

Actieprijs vandaag : 146.00 Euro
Meer informatie >> Naar aanbieder van Neuschwanstein, Linderhof and Oberammergau VIP tour from Munich